What's New
The last two public workshops this year — don't miss it!
FALL CONTACT CENTER SUPERVISOR TRAINING WORKSHOPS

Workshop registrations cap at 30. Avoid disappointment — register today



Intentional Coaching Essentials Workshops teach supervisors new coaching skills that creates "customer centric mindset" and improves both front-line engagement and KPI performance.
Register your supervisors for one of two public workshops this Fall. Register 3 supervisors and 4th is FREE.

> Intentional Coaching Essentials Workshop hosted by the City of Minneapolis.
October 22 & 23, 2014

> Intentional Coaching Essentials Workshop hosted by the City of Austin TX 311 Contact Center.
November 6 & 7, 2014

*************************************************************************************************************************
The sequel to The Napkin, the Melon & the Monkey is available now!
An inspirational tale about living with uncertainty at work and in life
The Monkey, the Moon & Maybe: How to Embrace Change & Live Fearlessly

– Learn how to be resilient — the key to living a happy life.
– Learn to use mindfulness to reduce stress and improve outcomes.
– Learn to handle your next life-changing event with grace and ease.
– Learn to struggle less, love more and live a more joyful, satisfying life.
Two easy ways to buy the book:
Direct from the publisher — best pricing for quantities of books www.MonkeyMoonMaybe.com
Order from:

Kindle version coming soon!
I could use your help in getting the word out by writing a review on Amazon and/or
entering the giveaway promotion on Goodreads (if you are selected, you get a free book!). I'll be eternally grateful for writing a review in either location.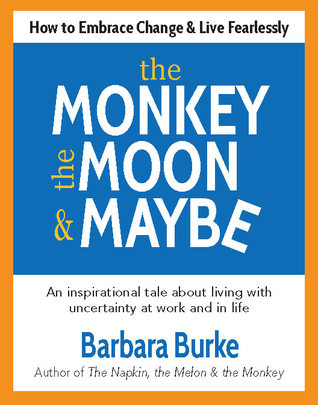 Enter to win
Consulting
Barbara partners with her contact center clients to improve customer satisfaction, increase efficiency, and build front-line engagement. She applies her proven culture change process to move the operation beyond efficient transaction handling to focusing on improving the quality of the customer experience.
Learn more »
Leadership Training
Barbara's popular leadership training program, Intentional Coaching teaches supervisors coaching protocols they need to give customers the best possible service experience. Her hands-on workshops are customized to fit the needs of individual client companies. She also offers public workshops throughout the U.S. several times a year.
Learn more »
Speaking
As a thought leader on utilizing the customer service contact center as a strategic asset, Barbara is a popular presenter and keynote speaker at industry conferences. She provides inspiring seminars for corporate events and leadership retreats.
Learn more »
---